Quick Facts
Capital-Kuala Lumpur
Main cities- George Town,Kuala lampur,Ipoh,Kuching.
Language- Malay,Indonesian
Currency-Ringgit Malaysia
Population- 29.95 million
Telephone code- +60
Climate-Tropical weather year-round.
WHY STUDY MEDICINE IN MALAYSIA
Medical Education system in Malaysia meets high standards.
opportunity for students to obtain foreign degrees from advanced countries like UK, US, Australia, Canada etc.
Medical Education in Malaysia is relatively cheap.
Living costs in Malaysia is comparatively low.
Excellent quality of life .
Immigration procedures are relatively simple.
Overall environment in Malaysia guarantee comfort, peace and safety.
Multi-lingual community makes communication easy.
PROGRAM INFORMATION
A medical degree from Malaysia spans five years. The course covers four basic themes-personal as well as professional development, population, society, health and illness, scientific basis of clinical practice and clinical skills. As part of the course, one will be required to make visits to medical practices, community care facilities and hospitals.
UNIVERSITIES OFFERING MEDICINE STUDIES IN MALAYSIA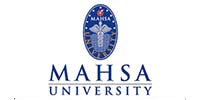 MAHSA University